Welcome to our website. The Smithtown Branch is entering its 45th year and continues to support the mission of AAUW to advance equity for women and girls through advocacy, education, philanthropy and research. We have a full program of activities that helps us promote our mission. We support the National Conference for College Women and Student Leaders (NCCWSL). We are the partner branch with Stony Brook University for the "Elect Her-Campus Women Win" program. We educate ourselves and the community by presenting interesting speaker programs. Each year we view one movie pertaining to women's rights such as "The Invisible War" and "Pray the Devil Back to Hell," the story of the women in Liberia who fought to end wars and bring peace in their country. For the holiday season we donate needed items for the victims of domestic violence and give generously to our local food pantry. We are always open to suggestions on new ways to help women and our community.
Close ties and friendships have grown through our projects, but also through our interest groups including our lively literature group, our crafty knitting group, our caring outreach program, our recently formed just for fun Mah Jongg group, and our deep thinking Great Decisions discussion group.
We invite you to explore our website to see more of what we are about. We welcome all women who are interested in our mission and are looking to find new friends and activities. For more information you can contact one of our branch Co-Presidents Diane Ardam at dineystokn@msn.com.
==============================================================================
Upcoming Events
AAUW Smithtown Branch
Annual Book & Author Luncheon
To benefit AAUW Legal Advocacy Fund
Natasha Simone Alexenko A Survivor's Journey
From Victim to Advocate
Saturday November 3rd 2018 at Noon
Voila, The Bistro
244 Lake Avenue, St James, NY
On August 6, 1993, twenty-year-old Natasha Simone Alexenko was assaulted at gunpoint. After nearly a decade, her backlogged rape kit was finally tested and her rapist, who roamed free for ten years, was brought to justice. On the day he was sentenced, Alexenko vowed that she would no longer be a statistic and would do whatever she could to help police on behalf of other rape victims. In 2011, she founded Natasha's Justice Project (NJP), a national nonprofit organization created to expose and eliminate the nationwide rape-kit backlog and to bring justice to survivors of sexual assault.
Born on Long Island, New York, and raised in St. Catharines, Ontario, Canada, Natasha is the founder and CEO of Natasha's Justice Project (NJP). Alexenko has been featured in the New York Times, the Wall Street Journal, and other national and international publications. She has made guest appearances on broadcast and cable networks and was the focus of the HBO documentary Sex Crimes Unit. Alexenko shared her story at the historic 2015 joint press conference at which Vice President Joe Biden and New York County (Manhattan) District Attorney Cyrus Vance Jr. pledged a combined $80 million to help defray the cost and reduce the backlog of untested rape kits. Alexenko serves as a consultant to Department of Justice Bureau of Justice Assistance's Sexual Assault Kit Initiative Grants (SAKI). For more information, visit www.NatashasJusticeProject.org.
2nd Annual  Meet and Greet Tea
This was a well attended enjoyable afternoon of Tea and Treats on Saturday, September 29, 2018.  The Smithtown Branch celebrated its 45th Anniversary at the tea.  In addition, attendees were introduced to Sarah Zaida, whom the branch sponsored at the 2018 National Conference for College Student Leaders (NCCWSL)  Sarah spoke about her experiences at the conference.  Everyone enjoyed meeting her and hearing about her conference experience and her journey so far.
2017-18 Event Highlights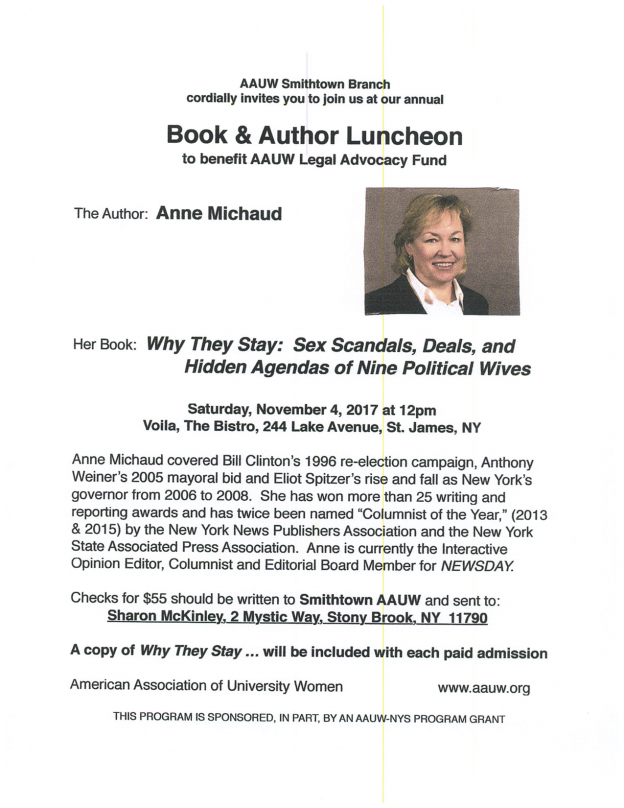 Meet and Greet Tea
This was a well attended enjoyable afternoon of Tea and Treats on Saturday, September 9, 2017.  A tea talk was presented as well as a lesson in reading tea leaves.  In addition, the Islip AAUW group presented our Branch with the traveling "Torch of Liberty" to celebrate the centennial of women securing the right to vote in New York State.
2016-17 Event Highlights
OPEN HOUSE
"Being Heard in a Man's World"
Monday, September 12, 2016
Featuring Guest Speaker
Wendy Walsh-DeMaria
Certified Auctioneer and Antique Appraiser for Fine Arts and Antiquities
DETAILS
6:30pm-9:30pm
The Smithtown Historical Society's Brush Barn
211 East Main Street, Smithtown, NY 11787
By profession, Wendy is a licensed optician on the East End, but she is also among the foremost public auctioneers in the country, a certified Antique Appraiser of Fine Arts and Antiquities, and a licensed Realtor. Clearly, there is nothing that this woman can't sell!! A lifelong Rotarian, Wendy is also scheduled to become L.I. Rotary District Governor in 2017.
Learn about how you can join in AAUW's commitment to help advance woman and girls of all ages in the greater Smithtown area.
========================================================================================
Annual Book and Author Luncheon
Saturday October 15, 2016  12pm
Talia Carner will be discussing her new book
Hotel Moscow
Viola, The Bistro
224 Lake Ave., St. James, NY 11780
Program to benefit AAUW's Legal Advocacy Fund
Highlights of 2015-16
Highlights of 2014-15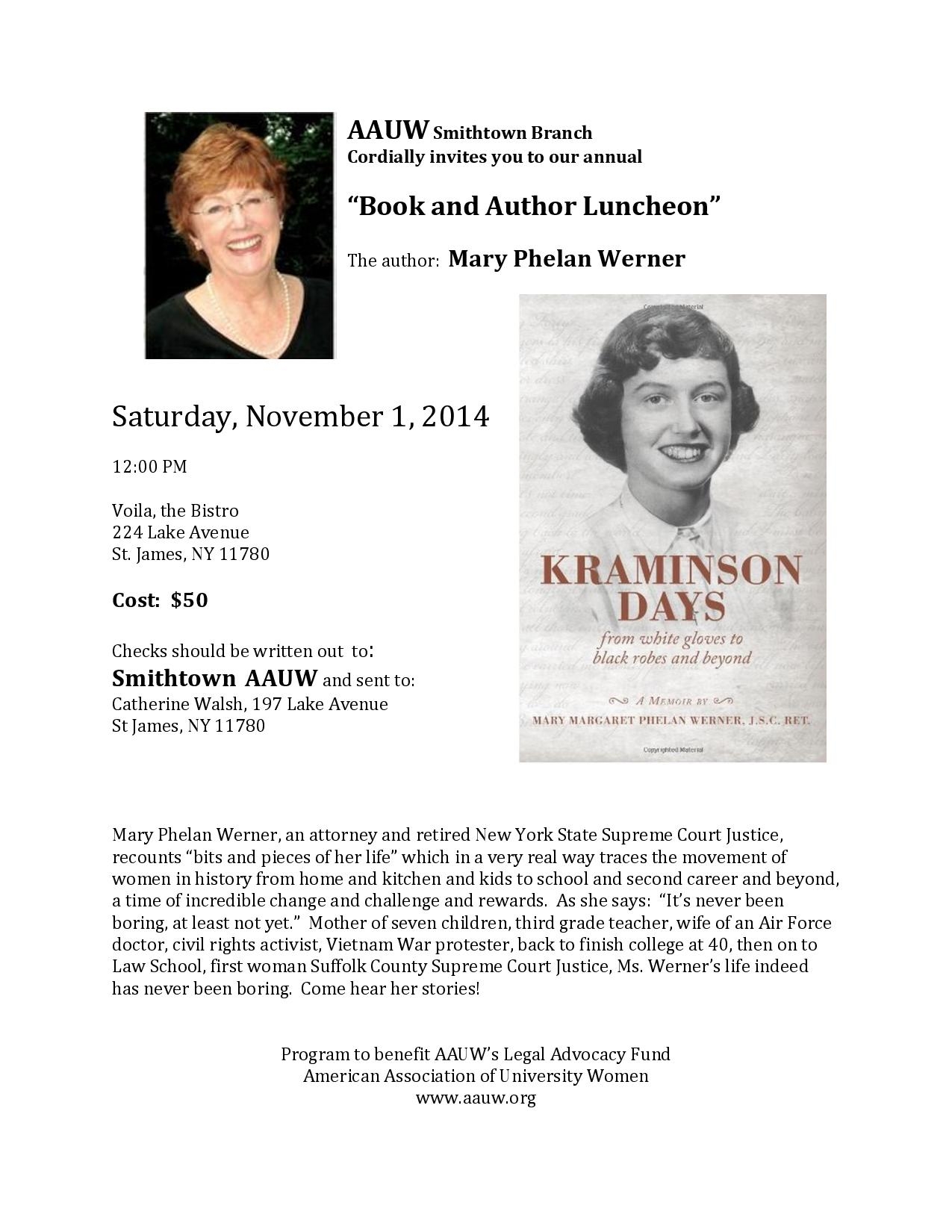 HIGHLIGHTS OF 2013-2014
Open House in September was highlighted by a talk by Carol Kessler from Brookhaven National Labs on Women working in the stem field. Members also introduced our various interest groups and projects.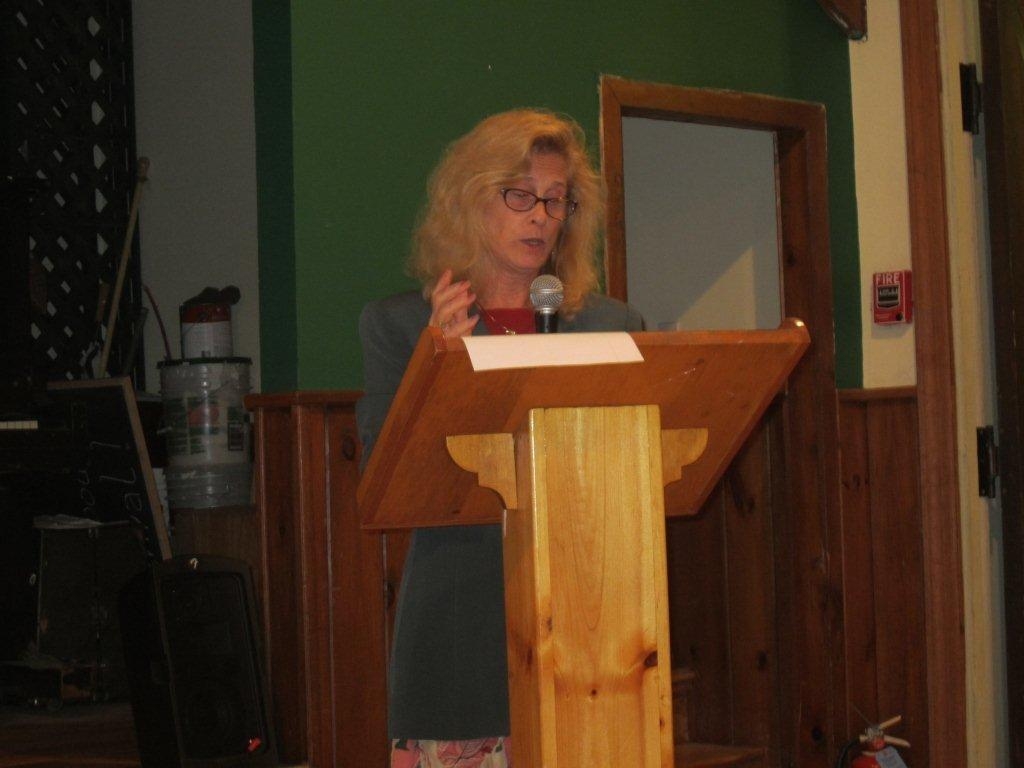 BOOK AND AUTHOR LUNCHEON
GUS ALFIERI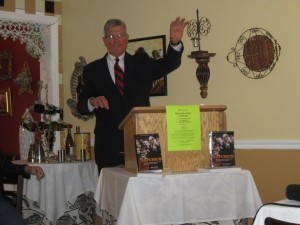 ELECT HER STONY BROOK WOMEN WIN 2014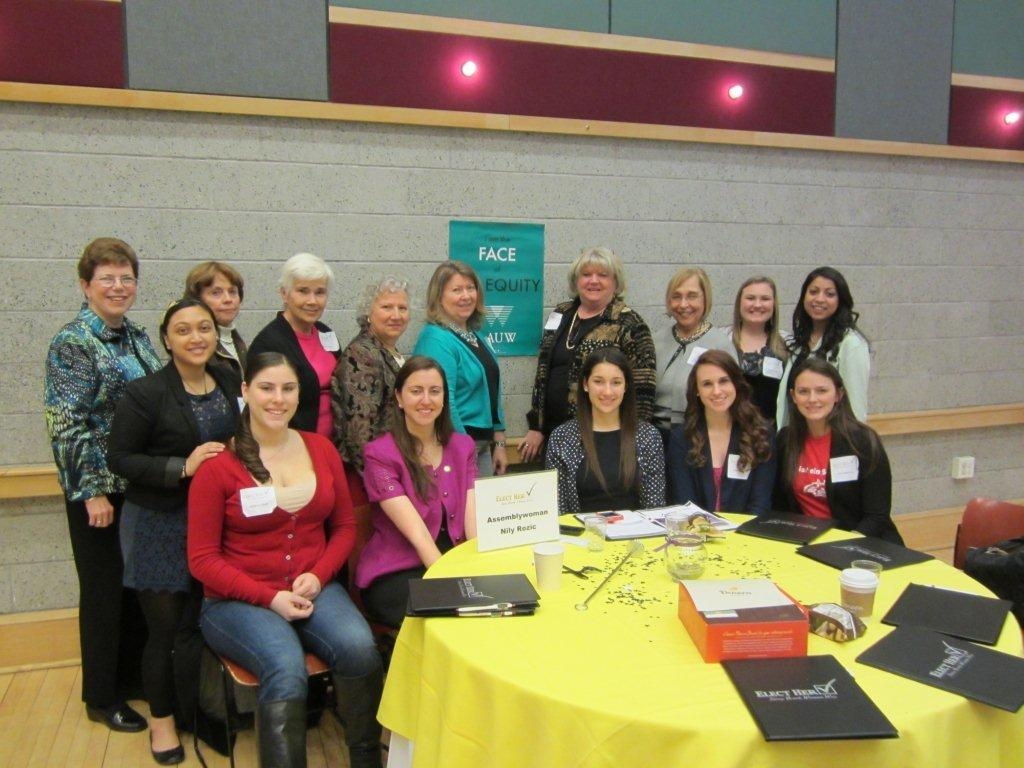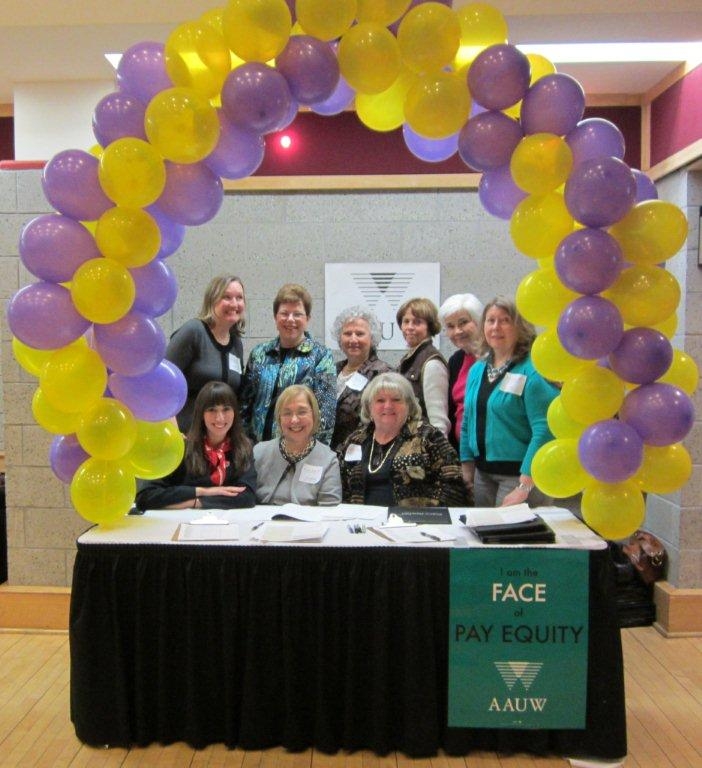 Members volunteered at Stony Brook University to assist with the Elect Her-Campus Women Win Conference.